General Questions

What type of CNC or laser do you use to cut the ornaments?     No CNC's or lasers! All of my ornaments are cut by hand using a scroll saw.
How long have you been scroll sawing?      I've been sawing since I was 10 years old. I received a Dremel scroll saw as a birthday present and have been cutting ever since.
How did you get started doing shows?     When I was 11, I wanted an Atari 2600. My parents told me that if I made half the money, they would pay for the other half of the system. Both my parents had been doing craft shows at the time, so I borrowed some space at their booth at the Lititz craft show to sell my items.
What was your first product?     My very first item was a Pac-man necklace (kids, ask your parents who Pac-man is) and sold them for 25 cents each. After my first show, I had enough for my Atari!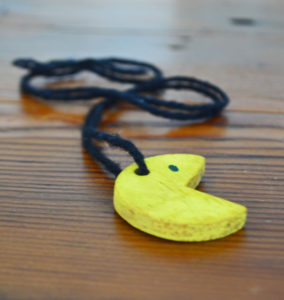 What saws do you use?     I use a plethora of saws in my shop, depending what the project calls for. My favorite right now is my Bushton Hawk. It handles both interior and exterior cutting very well. I also use a modified Dewalt 788 (thanks dad!), Hegner Multimax 18, Excalibur and several others. I still have that original Dremel too, but he doesn't get used anymore.
Do you have a store?     No store yet as my shop is in the house, but orders can be placed online, through my brochure or come visit us at a craft show!
I don't want to use the website to order. Can I mail an order to you? Sure! Just print out this brochure, complete it mail it back to the address on the form. Do not call to place your order. We do not process orders by phone.
How long does it take to make an ornament?      It depends on how long the name is and how many interior cuts are required. The more letters/interior cuts, the longer it takes. For each interior cut, I have to drill a hole, disconnect my blade from the saw, feed the blade through the hole, tighten and tension the blade, cut the interior, disconnect the blade and move to the next interior cut. On average, probably around 5-10 minutes per ornament.
I need an unusual name – can you make it?      I can make any name you need.
Do you make nicknames?     I can make any name you need.
Do you make last names?     I can make any name you need.
Do you make names for pets?      I can make any name you need.
What kind of finish is on the ornaments?      Our ornaments are finished using Danish oil.
Can the ornaments be painted?       Our ornaments are finished with an oil based product. Customers have told us that they have used spray paint to paint their ornaments.  Some customers have said they used glitter-glue products to add sparkle and still see the character of the wood.

What do you use to hang the ornaments?      Lots of people use regular Christmas ornament metal hooks or clear fishing line, but if you want to dress them up a little, try a piece of ribbon, yarn or jute rope. Phoebe likes to use a thin strip of fabric.
How many different names do you have in stock at a show?      I'm always adding names to my show stock. At last count, I had over 2500 different names. And if I still don't have it, you can always place an order and I'll make it and mail it to you for just $4.00 shipping.
What is the max length of name you make?       If a name has 8 letters or more, I shrink the letters down so the max length of the ornament is about 8 ½"
Do I have to pay extra for a longer name? Do I get a discount if my name is only 4 letters long?      No, all names are the same price. I figure in the long run, they even out.
Can they be dipped in chocolate?      Believe it or not, this is actually a question I was asked at a show. I would NOT NOT NOT recommend this, but if you'd like to try it, be my guest. Ornaments dipped in chocolate cannot be exchanged for different spellings.
What are the ornaments made from?      My ornaments are made from ¼" thick MDF with cherry veneer on both faces.
What is your least favorite name to make?      Barbara – only 7 letters long but 13 interior cuts – probably the name I have that takes the most time to complete.
I accidentally purchased an incorrect spelling of a name, what can I do?      Don't Panic! You are not the first to do this. You have a few options – 1) if you are still at the show or will be seeing us later at another show, just bring it back and we'll exchange it for the correct spelling, or 2) mail the ornament with the incorrect spelling to me and I'll send you one with the correct spelling. If I don't have it in stock, please remember I'll have to make it and it may take 4-6 weeks to get to you. Please include the following – the correct spelling of the name, the name and address where you'd like me to mail the new ornament, and $4.00 to cover the cost of shipping the ornament to you.
I saw you at a show and you had the unusual spelling of my name. How did you know to have that name in stock?       I knew you were coming.
Privacy Policy   We respect your privacy. We won't use your E-mail other than sending you our newsletter ( if you have subscribed) or contact you in reference to any open issue between you and Scrolling It Out Woodworks.
We won't share your personal data e.g. E-mail id, Contact Number with any third party.
Google, one of our third-party advertisers, may add a cookie to determine targeted advertisements based on your preferences and your visit to our site and other sites on the internet. You can choose to opt out of Google's use of cookies by visiting the Google ad and content network privacy policy.
Our newsletter will always include a link for opting out anytime. As soon as you opt-out we will remove your e-mail id from our database.